The Materials Science and Engineering department has numerous research opportunities available to Carnegie Mellon and non-Carnegie Mellon undergraduate students. Many students carry out research for credit (27-555 or 27-556) or extracurricular research with individual professors; students are encouraged to contact professors directly for such opportunities. Moreover, several larger programs are housed within the department, for which additional information can be found below.
Undergraduate research
MSE students are encouraged to get involved in undergraduate research projects in a variety of formats that allow for hands-on, collaborative learning opportunities. 
Capstone course
All MSE undergrads engage in research through the Capstone course where student teams join forces with industry partners to solve real world engineering problems. Read more about are most recent projects and partnerships: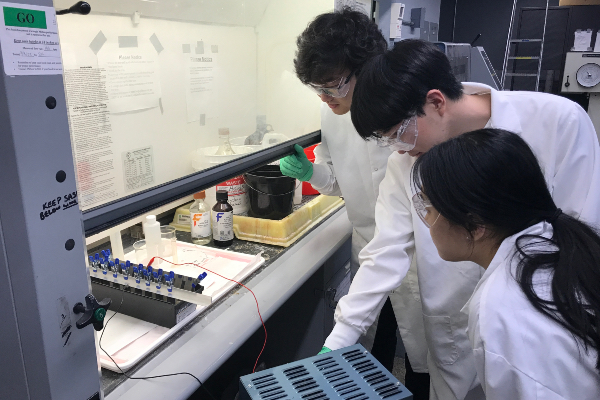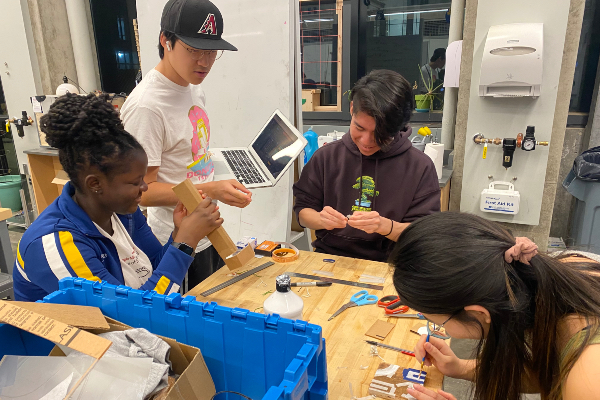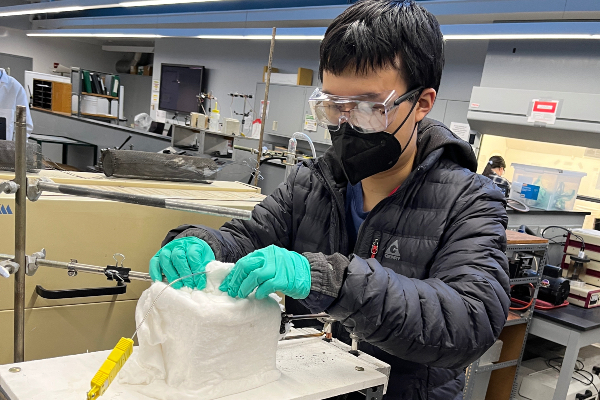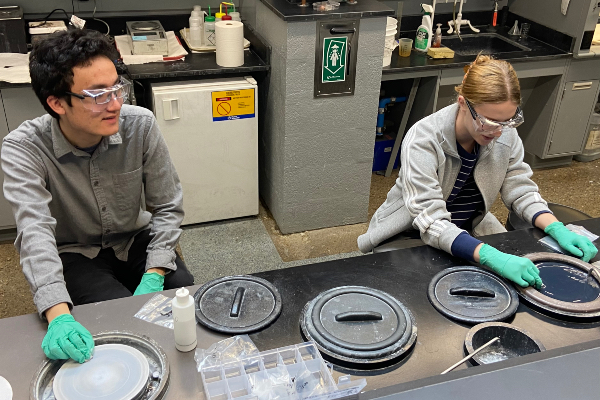 Boeing
Surface Preparation for Adhesive Bonding to Aluminum Alloy AlSi10Mg Additive Manufacturing
This project tests different surface treatment methods for additively manufactured aluminum. The goal is to find the shop-floor surface treatment method that produces the best adhesive bond using 3M's EC2216 Epoxy. Following ASTM D-1002 standards for the lap shear tests, the group tested five surface treatment methods: Isopropyl Alcohol, Water-break-free, Sol-gel, FPL etching, and Phosphoric Acid Anodizing. 
Characterization the Effects of Solution Treatment on Additively Manufactured AlSi10Mg Alloy
This project explores the effect of lowering solution treatment times and temperatures of additively manufactured AlSi10Mg alloy for Boeing. Through mechanical testing and microstructural characterization, the group will determine an optimal heat treatment to reduce manufacturing energy while retaining optimal mechanical properties. 
Covestro

Characterizing of Fiberglass length and Mechanical Properties of 20% Glass-Filled Polycarbonate Materials
Covestro is currently researching the mechanical properties of their Medical Glass-Filled Makrolon® Single Use Surgical Instruments and Drug Delivery Devices. The aim of this project is to determine how the fiberglass orientation affects various mechanical properties in the 20% Glass-filled Polycarbonates (GFPC). This project aligns with Covestro's sustainability and innovation goals and has the potential to reduce waste in local communities.
Scaled Ionics
High Temperature Alloy Compatibility with Battery Cathode Materials Processing Environments
We are partnering with Scaled Ionics to identify and suggest material candidates to aid in their development of lithium-rich cathodes. In particular, we are tasked with identifying stable metals for their early stage testing and product development.
JADCO
Measurement of Residual Stress in QT+ Plate and Effect of Plate Design on Residual Stress after Forming
In response to significant edge waves in new steel grade (QT+), this project examines and quantifies the effects of equalizing residual stresses on deflection.The outcomes of the project are intended to decrease the number of defective parts, therefore reducing CO2 Emissions, and to implement future methodologies that will prevent residual stress issues. 
Westinghouse
Cr Coating Grind Through Detection
Westinghouse uses abrasive surface polishing/grinding of Cr-coating thickness and surface roughness. The project seeks to design an inspection method that is able to detect regions that have inadvertently been "polished through" that can be used in the current production path.
Simulating Microstructure seen in Departure from Nucleate Boiling Event
This project aims to design a cost-effective protocol for testing proprietary nuclear fuel cladding. If successful, the protocol could be used as a primary prototyping test for novel nuclear cladding material, reducing company expenditures in areas such as materials and labor.
Additional projects included: 
A High-Tech Gymnasium – Reimagining Indoor Sports with Electrochromic Materials
Multi-Sport Court gym floors utilize a singular or shared physical space with a variety court lines that maximize the number of sports that can be played in a shared space. The overlapping lines can often confuse players and diminish the quality of play. This project manipulates the optical properties of polymer dispersed liquid crystals (PDLC), an electrochromic material, to create gym floor lines that can vanish and reappear at the press of a button.+
Summer programs