Rollett Receives International Additive Manufacturing Award
Monica Cooney
Aug 18, 2023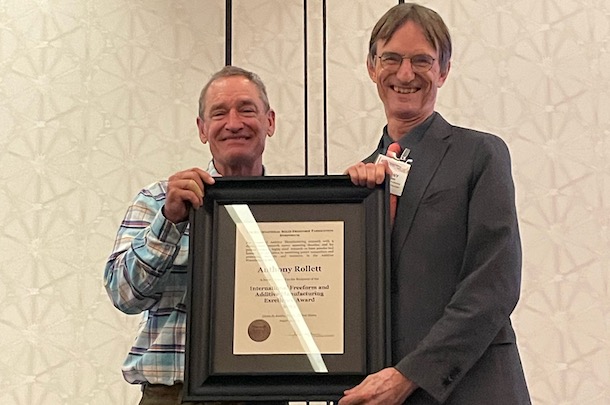 Anthony Rollett, U.S. Steel Professor of Metallurgical Engineering and Materials Science, Materials Science and Engineering and faculty Co-Director of Next Manufacturing Center recently received the International Freeform and Additive Manufacturing Excellence (FAME) Award at the thirty-fourth annual International Solid Freeform Fabrication (SFF) Symposium in Austin, Texas.
The FAME Award is conferred annually to recognize an outstanding researcher in the field of freeform/additive fabrication. Rollett has made significant contributions to improving additive manufacturing processes, particularly in regards to laser powder bed fusion and keyhole porosity prediction.
"To be honored with the FAME Award is in every sense a pinnacle of recognition in the additive manufacturing community," said Rollett.
The Solid Freeform Fabrication conference, administered by The Minerals, Metals & Materials Society (TMS), is a premier meeting in the materials field for scientists and engineers, and is also well-attended by mechanical engineers.
"This is a community that has experienced astonishing growth in the last decade," noted Rollett.  "It is a privilege to have had the opportunity to make contributions at multiple levels. I am indebted to my students and colleagues and delighted to receive the award."
In addition to receiving the award at the conference, Rollett also delivered a keynote address, "Co-design of 3D Printing, Parts and Microstructure in High-temperature and High-pressure Heat Exchangers."