Students expand horizons at African MRS
Monica Cooney
Feb 22, 2023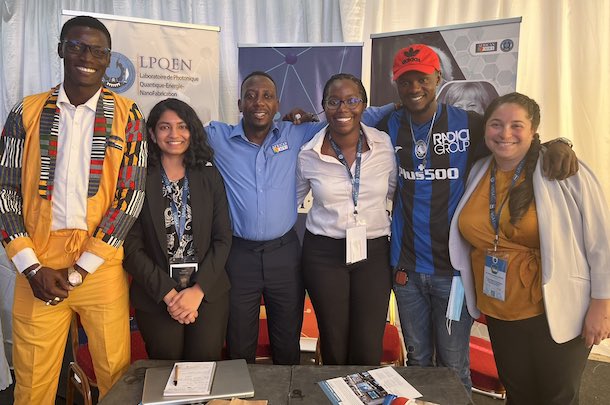 The opportunity for Carnegie Mellon to be represented at the
African Materials Research Society (AMRS)
meeting in Senegal was presented to Materials Science and Engineering Ph.D. students in the fall 2022 semester.  Interested students submitted presentation abstracts along with a narrative of why they wanted to attend to both the department and to the AMRS for consideration.
When department chair Beth Dickey reviewed the applications, she was thoroughly impressed by the submissions of three students - Durva Naik, Katelyn Jones, and Katrina Ramirez-Meyers. However, the department had only allocated funds to send two students.  Through generous donor support of the MSE Student Impact Fund and the Engineering and Public Policy (EPP) department, all three students were able to attend the December 2022 conference. 
"Engaging in Africa MRS is a great opportunity for faculty and students to contemplate and discuss their research in a global context, while gaining insight into African education, research and development climates," said Dickey.  
AMRS was formed in 2000 in efforts to improve collaboration between the United States and Africa, with the overarching goal of developing materials research capacity in Africa. In 2022, the biennial conference returned to Senegal, where its inaugural conference was held 20 years earlier. The conference brings together science, research, and government entities to build knowledge, foster relationships, and promote partnerships in Materials Science studies.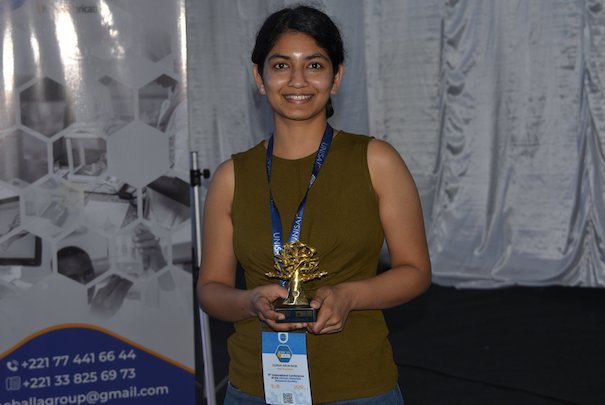 Attendees from CMU described the meeting as a more personal setting than previous conferences they had attended, as they had the opportunity to connect one-on-one with leaders from academia and government entities.  

"It felt like a community," said Katrina Ramirez-Meyers. "There were people from all over the world that had been attending AMRS for many years."
During the five-day meeting, each student had the opportunity to present on a research topic to a subset of conference participants. These presentations were reviewed by panels of judges, and Naik was honored with the ACS Publications best oral presentation award for her session, "Biomaterials and Materials for Health."

The Ph.D. students took note of the differences in approaches to research in other countries, particularly as projects often begin as more practical endeavors and are followed by theoretical studies. They also cited the need to improve the visibility of the research being done in Africa in order to promote the sharing of tools and knowledge.  

"While the resources may not be the same, they are doing the same research," said Jones. "It is a lot more immediately practical and students are required to be more resourceful."
After attending this conference, I really want to focus on the administrative sector over technical in helping other communities.

Durva Naik, MSE Ph.D. Student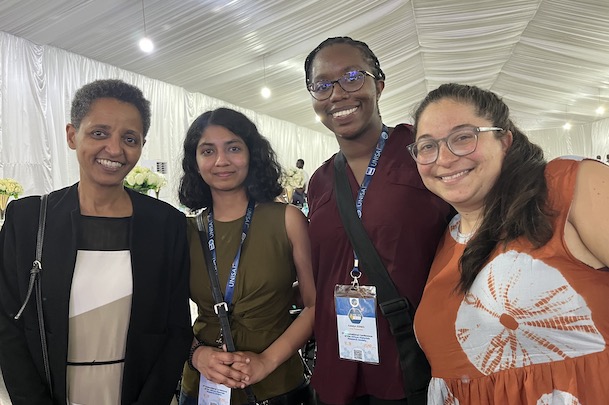 Each student took away valuable lessons that they will be able to take into consideration as they approach their research and professional endeavors. By hearing the global perspectives of materials researchers, the students were encouraged to consider ways in which their own research efforts might foster collaboration. 
"Science and government go hand in hand as efforts are made to reduce disparities in science across continents," said Naik. "After attending this conference, I really want to focus on the administrative sector over technical in helping other communities." 
Ramirez-Meyers, who is also pursuing an EPP degree, said that the conference helped her to envision a clearer path to collaborating internationally on challenges affecting access to energy from a materials science viewpoint.
In addition to their professional development, the three students embraced the experience of exploring a new culture, as they enjoyed regional cuisine and visited sites throughout Senegal, including Lac Rose, the Renaissance Monument, and a turtle sanctuary.